Recommended Global Pharmaceutical Sciences Conferences
Asia Pacific & Middle East
Biopharma 2018
Biopharma 2018
Details of Biopharma 2018 Conference in USA:
| Conference Name | Place | Date |
| --- | --- | --- |
| Biopharma 2018 | Boston, USA | October -24-25, 2018 |
Conference Series LLC Ltd invites all the participants from all over the world to attend '13th International Conference on Biopharma and Biotherapeutics ' during October 24-25, 2018 in Boston, USA which includes prompt keynote presentations, Oral talks, Poster presentations and Exhibitions. The Biopharma 2018 offers a best platform with its well organized scientific program to the audience which includes interactive panel discussions, keynote lectures, plenary talks and poster sessions on the topics Biopharmaceutics, Drug delivery, Biopharmaceutical Informatics, Novel Approaches, Clinical Trials on Biopharmaceutical Products, Analytical Characterization of Biotherapeutics, current issues in Bioequivalence of Oral Products, Biosimilars and Biologic Drugs, new scientific approaches to international regulatory standards. The conference invites delegates from Biopharma laboratories, Pharmacists, Academicians, Clinicians, Researchers, Health care professionals, students, business delegates and Young researchers across the globe providing a better podium, interconnecting the latest research, technological developments in the arena as well as therapeutic aspects.
Why to Attend:
With all the scientific people over the world focused on learning about advancements in Pharma community. This is a best globalized opportunity to reach the largest assemblage of participants. We anticipate participants, renowned speakers and eminent delegates across the globe attending the conference to share their valuable presentation and galvanize the scientific community. Biopharma 2018 is a 2-day event offering to conduct presentations, distribute information, meet with potential scientists, make a splash with new developments, and receive fame and recognition. Our services have always met with great achievement in Business Conferencing. World-renowned speakers, the most recent and advanced techniques, developments, and the newest updates are the prominent features of the conference.
The conference provides a platform to detail the research works of pharmacy expertise from various scientific backgrounds and the same can be perceived by young researchers and students. The conference mainly aims to promulgate knowledge on Biopharma & Biotherapeutics. International conference on Biopharma & Biotherapeutics would be a perfect venue to share and develop knowledge.
About Boston:
Boston is the capital city and most crowded region of the Commonwealth of Massachusetts in the United States. The city legitimate spreads 48 square miles (124 km2) with an expected populace of 673,184 of every 2016, making it the biggest city in New England and the 22nd most crowded city in the United States. The city is the financial and social stay of a considerably bigger metropolitan range known as Greater Boston, a metropolitan measurable territory (MSA) home to a statistics evaluated 4.8 million individuals in 2016 and positioning as the tenth-biggest such zone in the nation. It was the scene of a few key occasions of the American Revolution, for example, the Boston Massacre, the Boston Tea Party, the Battle of Bunker Hill, and the Siege of Boston. Its rich history pulls in numerous voyagers, with Faneuil Hall alone illustration more than 20 million guests for every year and furthermore makes an extensive part out of Boston's economy, with 21.2 million residential and global guests burning through $8.3 billion of every 2011; barring guests from Canada and Mexico, more than 1.4 million worldwide travelers went to Boston in 2014, with those from China and the United Kingdom driving the rundown. Boston's status as a state capital and additionally the local home of elected offices has rendered law and government to be another significant segment of the city's economy. The city is a noteworthy seaport along the East Coast of the United States and the most established ceaselessly worked mechanical and angling port in the Western Hemisphere.
Conference Highlights:
Biopharmaceutical Drug Design and Development
Nanoparticles-An Innovative Drug Delivery System
Biopharmaceutical Informatics
Clinical Trials on Biopharmaceutical Products
Biosimilars and Biologic Drugs
Analytical Characterization of Biotherapeutics
Biopharmaceutical Regulatory Affairs
Biologic Drug Development
Formulation Studies for Biotherapeutics
Drug Dissolution of Biopharmaceutical Products
BA/BE on Biopharmaceutical Products
Biopharmaceutical Companies & Market analysis
Major Marketing Associations around the Globe:
· International Institute of Marketing Professionals (IIMP®)
· Marketing Power (American Marketing Association -AMA)
· American Branding Association (ABC)
· Canadian Marketing Association (CMA)
· Marketing Education Association (MEA)-USA
· Association for Consumer Research (ACR)
· The Asia-Pacific Professional Services Marketing Association (APSMA)
· Association of Internet Marketing and Sales (AIMS)-Canada
Target Audience:
Directors/Managers & Business Intelligence Experts, Departmental Managers, Vice Presidents/ Directors & Brand Manufacturers/ Marketers of Consumer Products. Retailers, Marketing, Advertising and Promotion Agency Executives, Solution Providers (digital and mobile technology, P-O-P design, retail design, and retail execution), Professors and Students from Academia in the study of Marketing and Advertising filed.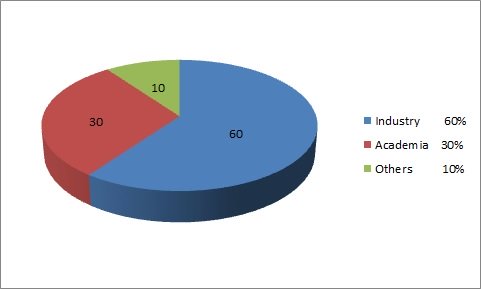 Sessions/Tracks
Track 1: Biopharmaceutical Drug Design and Development
Drug design is an inventive process of finding new medications of a biological target which frequently but not necessarily relies on computer modeling techniques use of high throughput screening techniques to analyze a new compounds, both by synthetic and natural, as novel drugs. Regrettably, this approach has yielded very little achievement in the field of anti-infective drug discovery. The identification of both molecular targets that are essential for the survival of the pathogen, and compounds that are active on intact cells, is a challenging task. Even more formidable, however, is the fulfillment for appropriate potency levels and suitable pharmacokinetics, in order to achieve efficacy in small animal disease models.
Track 2: Nanoparticles-An Innovative Drug Delivery System
One of the big challenges of medicine today is to deliver drugs specifically to defected cells. Nano particulate drug carriers have the potential to answer to this call, as nanoparticles can cross physiological barriers and access different tissues, and also be provided in a targetable form aimed at enhancing cell specificity of the carrier. Recent developments within material science and strong collaborative efforts crossing disciplinary borders have highlighted the potential of mesoporous silica nanoparticles (MSNs) for such targeted drug delivery. Here we outline recent advances which in this sense push MSNs to the forefront of drug delivery development. Relatively straightforward inside-out tuning of the vehicles, high flexibility, and potential for sophisticated release mechanisms make these nanostructures promising candidates for targeted drug delivery such as 'smart' cancer therapies. Moreover, due to the large surface area and the controllable surface functionality of MSNs, they can be controllably loaded with large amounts of drugs and coupled to homing molecules to facilitate active targeting, simultaneously carrying traceable (fluorescent or magnetically active) modalities, also making them highly interesting.
Track 3: Biopharmaceutical Informatics
Biopharmaceutical informatics endeavors to use information technology, sequence-and structure-based bioinformatics analyses, molecular modeling and simulations, and statistical data analyze towards biologic drug development. Development of databases containing the experimental data on biophysical stability, safety along with molecular sequence.
Track 4: Clinical Trials on Biopharmaceutical Products
A fundamental component to this mission across the biopharmaceutical industry is determining and solving common issues that compromise the success of a clinical development program – the shared pathway to safer and more clinically meaningful medicines. The challenges facing the pharmaceutical industry make the choice of a strategic discovery partner more important than ever.
Track 5: Biosimilars and Biologic Drugs
Biosimilars are the generic version of biologicals. A biosimilar is a biologic therapeutic item which is duplicate of a unique item that is produced by an alternate organization. It is the new buzz word in pharmaceutical industry. Biosimilars are highly comparable to licensed reference product not accept minor differences in clinically passive components; also there are no clinically needful disparities between the biologicals and the reference product in terms of safety, purity, and potency.
Biologic Drugs are genetically occurred from a living organism, such as a virus, protein, to maintain the body's natural response to infections and diseases. Biologics target proteins, and cells responsible for the manifestation and damage of rheumatoid arthritis and other types of inflammatory arthritis. The proteins targeted include tumors necrosis factor (TNF), interleukin-1 (IL-1) and interleukin-6 (IL-6), which shows effect in joint inflammation. Biologics are reserved for people whose arthritis has not retorted well to disease-modifying anti rheumatic drugs (DMARDs).
Track 6: Analytical Characterization of Biotherapeutics
Emerging analytical tools and techniques used for the characterization of therapeutic proteins and antigen reagents from the basic recombinant antigen and antibody characterization of complex which increases the molecular designs and analysis techniques of a therapeutic protein which exposes the analytical challenges that may occur when characterizing these molecules, and presents a number of tested solutions. Biotherapeutics is a resource for analytical scientists, biologists, and mass spectrometrists involved in the analysis of biomolecules, as well as scientists employed in the pharmaceuticals and biotechnology industries.
Track 7: Biopharmaceutical Regulatory Affairs
Regulatory Science is the science of advanced standards equipment, and paths to assess the safety, Drug toxicity and quality, potency of all FDA-regulated products. An access to lengthen the programs in regulatory science that leverages what has been well-educated in the development of training programs for translational scientists, and this model for regulatory science program development is being refined and adopted by all of the institutions that are part of the CTSA network. The target audience for such a program is broad, noted that it is necessary to break out of the mindset that regulatory science resides totally with FDA and that the field's purpose is to create a workforce that will function within the FDA. Regulatory science is a collaborative effort that goes beyond FDA. Critical needs for a regulatory science training program understand research and scientific methodology, toxicology, therapeutics, and pharmacology that underpin the regulatory process.
Track 8: Biologic Drug Development
Biopharmaceutics are a drug substance derived from living organisms or produced using biotechnology that are composed of biological entities such as proteins, peptides, nucleic acids, or cells. Drug development and biological product is a global massive complex enterprise that entails health care systems, disease knowledge, drug development, clinical research with many technologies and processes.
Track 9: Formulation Studies for Biotherapeutics
Biotherapeutics is illustrated as the process in which different chemical materials are incorporated to form final medicinal substances. The formulation studies associates developing a preparation of drug tolerable for patient. Formulation is the word often used in a way that consists dosage form. Formulation studies examines factors such as solubility, polymorphism, particle size, and pH as all of these can effects bioavailability and hence the reaction of a drug.
Track 10: Drug Dissolution of Biopharmaceutical Products
Disintegration has become an important and broadly used test receiving more accentuation worldwide from regulatory specialists amid the last 15 years. It is a critical quality control excessively and a guide, making it impossible to formulation development. Dissolution testing measures change on stability, and is utilized to build up in-vitro in-vivo correlations for some products. The disintegration test has experienced changes and updates subsequently of the expanded regulatory interest and the pharm practical industry's examination of aspects of disintegration testing to additionally enhance and get it the technique.
Track 11: BA/BE on Biopharmaceutical Products
The assessment of BA/BE of different drug products is based on the fundamental assumption that two products are equivalent when the rate and extent of absorption of the test drug does not show a significant difference from the rate and extent of absorption of the reference drug when administered at the same molar dose of the therapeutic ingredient under similar experimental conditions in either a single dose or multiple doses. Should the rate of absorption actually differ between products, it would have to be intentional and reflected in the proposed product label and be clearly demonstrated that it is not essential in the attainment of effective body drug concentrations on chronic use or has been shown to be medically insignificant for the drug. In practice, equivalence is indicated when key pharmacokinetic parameters used to establish rate and extent of the test, and reference products fall within a preset confidence interval. The FDA declares a drug product to be therapeutically equivalent to the innovator product if it is pharmaceutically equivalent, i.e., same active ingredient, dosage form, strength and route of administration, and bioequivalent. Products that are therapeutically equivalent can be used interchangeably. Thus, BE studies are construed to be considered surrogates for comparative clinical trials for the assessment of therapeutic equivalence in safety and efficacy between two drug products.
Track 12: Biopharmaceutical Companies & Market analysis
Pharmaceutical analytic market analysis arrangement with the collection, analysis, and resolution of details and data acknowledgement to the market environment of a given pharmaceutical product – in general of a medical drug. The elementary use of pharmaceutical market analysis is to boost as realistic and objective as possible a response of the marketing opportunities of a given pharmaceutical product, thus developing the recognition of the chances and risks combined with its development potential as early on as possible.
Market Analysis
The demand for biotherapeutics has witnessed a significant rise to the increasing prevalence of chronic diseases such as diabetes, rheumatoid arthritis, cancer, and multiple sclerosis. This growth in the demand for biotherapeutics, together with the imminent launch of several biopharmaceutical drugs, has created a substantial demand for cell line development.
However, unmet medical needs in emerging economies of Asia Pacific, Latin America, and Africa, is expected to provide lucrative opportunities for market players over the next few years. The global market for is estimated to with the opportunity in biotherapeutics cell line development will rise from US$56 mn in 2016 to nearly US$100 mn by 2022, rising at a CAGR of 7.50% between 2017 and 2022. North America has acquired the leading position in the worldwide market for biotherapeutics cell line development. In 2016, the opportunity in this region stood at US$23.5 mn, which is likely to increase to US$41 mn by the end of 2022.Europe, which emerged second in this market in 2016, is expected to report steady growth in the near future. The future of cell line development in biotherapeutics, however, lies in Asia Pacific, which stood at third position in 2016. The potential that this region holds can be understood by the fact that Asia Pacific is expected to register the fastest CAGR of 9.40% during the forecast period. The unmet medical needs and the increasing investments by major pharma companies are projected to amplify the development of biotherapeutics cell line in this region.
The future of Biopharmaceutical industry is promising with biotech companies focusing more on innovation & technological advancements & increasing interest of pharmaceutical companies to enter into biotech business.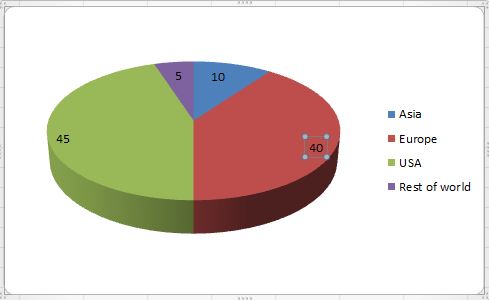 This statistic shows the global spending on diabetes in developed and so called pharmerging markets from 2016 to 2022. In 2015, the developed Biopharma market expended 35 billion U.S. dollars. Among others, growth in spending is driven by the increasing in the United States. In developed markets, new therapies targeting diabetes is a significant driver of market growth.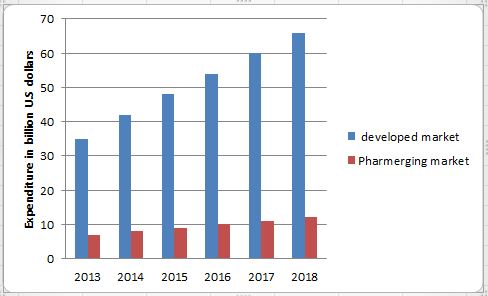 Past Conference Report
We gratefully thank all our wonderful Keynote Speakers, Speakers, Conference Attendees, Students, Media Partners, Associations, Sponsors and Exhibitors for making Biopharma 2016 Conference successful!
The 3rd International Conference on Biopharmaceutics and Biologic Drugs, hosted by the Conference Series LLC Ltd was held during August 31-September 01, 2017 Philadelphia, USA based on the theme "Emerging Methods for the Characterization of Pharmaceutical and Biologic Products". Benevolent response and active participation was received from the Organizing Committee Members along with Scientists, Researchers, Students and leaders from various fields of Biopharmaceutics, Biotech, Medical and pharmacy, who made this event a grand success.
Conference Series LLC Ltd expresses its gratitude to the conference Moderator, namely Rubi Mahato for taking up the responsibility to coordinate during the sessions. We are indebted to your support.
Similarly we also extend our appreciation towards our Chairs of the sessions for 2 days, namely Shyam B Mehta, Kamna Srivastava.
The conference was initiated with the Honourable presence of the Keynote forum. The list includes:
Shyam B Mehta, Teva Pharmaceuticals, USA
Mallikarjun Narayan Dixit, Accutest Biologics Private Limited, India
The meeting reflected various sessions, in which discussions were held on the following major scientific tracks:
Biopharmaceutics
Drug Discovery & Development
Biologic Drugs
Biological Medicine
Array of Clinical Trials in Biopharmaceutics
Drug Development & Therapeutics
Pharmaceutical Clinical Trials & Research
Drug Delivery Systems &Metabolism
Drug Interactions & Adverse Drug Reactions
Conference Series LLC Ltd offers its heartfelt appreciation to organizations such as Pharma Voice, Event listing sites and other eminent personalities who supported the conference by promoting in various modes online and offline which helped the conference reach every nook and corner of the globe.
To Collaborate Scientific Professionals around the World
Conference Date October 24-25, 2018
For Sponsors & Exhibitors
Supported By
Advanced Biomedical Research & Innovation
Archives of Medical Biotechnology
Journal of Bioengineering and Medical Technology
All accepted abstracts will be published in respective Conference Series LLC LTD International Journals.
Abstracts will be provided with Digital Object Identifier by